April 6, 2009
1. Dad
Recently I visited my father at the Soldiers Home in Holyoke, Massachusetts. His life was ebbing away. He wasn't able to swallow, and hadn't had food or drink for several days. He gripped my hands with all his remaining strength. His mind was clouded, and he couldn't talk, but I think he could hear what I said, and derive some comfort from it. Occasionally he opened his blue eyes, but they gazed without focusing.
I wished I had come sooner, come more often, stayed closer, been more patient with his weaknesses. I wished I could turn the clock back five years, or ten years, and be with him once more. After a couple hours, he drifted into sleep. I went home, my sister (Holly) stayed with him.
About one in the morning, I woke up, and felt that something was stirring, that my father's situation was reaching some sort of climax. I heard my name called twice, "Jim! Jim!" The next day, Holly told me that he had slept peacefully until around midnight, then stirred, just as I had felt. He died about twelve hours later.
Since I'm inclined to believe in some sort of life after death, I hope to feel his presence, or hear his voice, in the future.
There was always a close bond between us. He was my idol and my best friend. When I sat down to meditate, my thoughts often went to him. If the Super Bowl was exciting, I wanted to talk to him about it. His name was Lewis James Hammond, Jr., I was named Lewis James Hammond III.
When I was about 20, I went to a friend's house, and my friend's mother seemed to take a dim view of my scholarly labors, asking "So, are you reading the encyclopedia these days?" I came home feeling deflated. I was sitting downstairs, my father was in bed upstairs. He could sense what I was feeling, and came downstairs to talk, though he was usually a sound sleeper. He tried to raise my spirits. He not only sensed that I was deflated, he sensed that someone had made a wounding comment, and tried to help me get over it.
Our neighbor (in Westport, Connecticut) was a man named Charlie, who lived in the humblest house in town, and had worked as a landscaper's assistant. My father was on good terms with Charlie, and was always kind to him. When our chickens grew old, we gave them to Charlie. When our cars grew old, we gave them to Charlie — but charged him $10 lest his pride be wounded.
When Charlie's wife died, we went to the funeral. My father stood next to Charlie, supporting him by his presence. Charlie was touched by this silent support, and gestured toward my father and said, with a crack in his voice, "This guy is the best neighbor a guy could have." It was my father's finest hour, but he didn't do anything or say anything, he just stood next to a landscaper's assistant.
My wife (Yafei) knew him for 21 years, and had the highest opinion of him. Perhaps she summed him up best: "He was a gentleman. I couldn't have had a better father-in-law."
When I was 2 or 3, I sometimes entered my parents' bedroom early in the morning. My father would ask, "Did you have a bad dream?" I would say "Yes" (whether I did or not) in order to win sympathy, and receive a place on the bed. I would lie next to his big body, and he would comfort me.
When I was about 5, my father coached a Little League baseball team. He also accepted an unpaid position as Little League groundskeeper; being the groundskeeper meant watering the baseball fields and doing other such jobs. When I asked him, many years later, why he accepted the position of groundskeeper, he said that someone had to do it.
For most of his 85 years, he worked in the South Bronx (720 Garrison Avenue), one of the worst neighborhoods in New York City. When he saw garbage on the streets near his company, he always picked it up. Here too his principle seemed to be "someone has to do it." I never saw anyone besides him remove garbage from those streets.
When I was about 15, I was playing baseball, and at the end of the game, a quarrel broke out between an umpire and a fan (the fan thought that the umpire had insulted his wife). The fan approached the umpire, demanding in a belligerent tone that he take off his glasses — a prelude to hitting him in the face. My father saw what was happening, and stepped between them, arms extended, and said, "You're not setting a good example for the kids." The quarrel ended immediately, and everyone went home.
My father didn't believe in "turning the other cheek"; he resisted evil, and fought against injustice. Once when I was returning from Nantucket with him, he discovered that a parking attendant was trying to overcharge him, and he argued with the attendant. The attendant called her boss, who parked in front of my father's car, blocking his exit. He tried to intimidate my father, and spoke of summoning his boys. My father wasn't going to be intimidated, and wasn't going to back down. He walked off to find the town hall, leaving me to watch the car. He came back with a town official, who ironed out the differences.
He was well acquainted with the gritty side of life, but managed to be a gentleman — proud but not condescending, a peacemaker but also a fighter.
My father loved sports, played sports avidly as a youth, and was a 3-sport athlete at Amherst College. When he graduated from Amherst, he received a trophy for being the best athlete in the senior class. He was good at basketball and baseball, but his best sport was football. He was a quarterback, a punter, and a part-time defensive back on the Amherst football team. His 70-yard punts were written up in the New York Times, and he received a letter from a professional football team. He had such a good grasp of the passing game that, as a defensive back, he wreaked havoc on the opposing team's passing game, making numerous interceptions.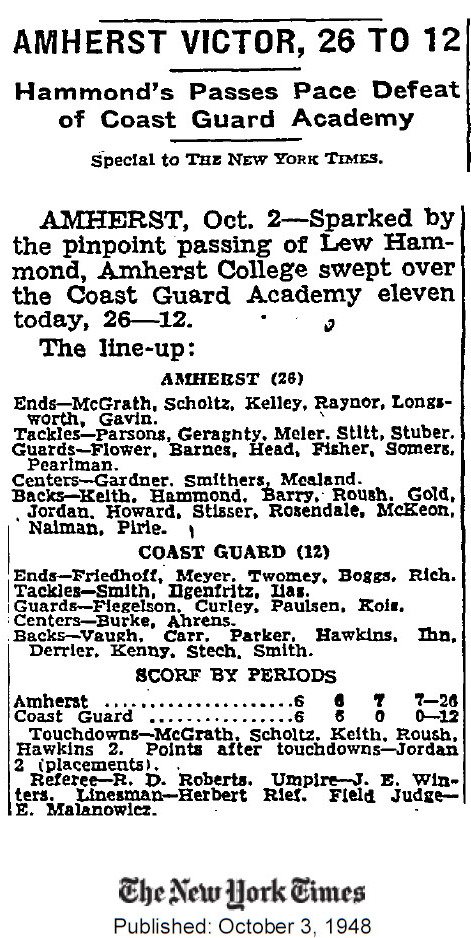 articles on...
Williams game
Colby game
Rochester game
He was so fond of football that when he retired, around 1995, he spent the fall traveling around the Northeast, watching every Amherst football game. When he graduated from Amherst in 1949, the Alumni newsletter said, "No Amherst athlete of recent years will be missed so sorely as Lewis J. Hammond, Jr., of Garden City, New York.... Anything involving coordination of arm and eye was Hammond's specialty. Amherst will long remember what he could do with a ball."
He was fond of David Lloyd, one of my childhood friends. Though Dave was small, he was a good athlete, a skillful tackler. When he brought down a bigger runner in a backyard football game, my father would shout, "What a tackle! Way to go, Dave!" Years later, when Dave had finished college, he asked me, "How's your father? I love that guy."
My wife's friend, Jay, was equally fond of him. Once Jay called us, and my father picked up the phone and said "Hello." When Yafei came to the phone, Jay told her that my father had a beautiful voice — a voice as deep, as kind, as firm as the man himself.
In his later years, my father took up tennis with a passion. He had always played occasionally, but now he was playing daily. Even when he was 80, he was a fine tennis player.
He was also an assiduous jogger — even before jogging became popular. He circled the yard over and over, wearing a path in the lawn. In later years, he jogged on the street, often awaking in the dark so he could jog before making the long drive to the South Bronx.
He found time for books, and was especially fond of historical works, such as an account of Napoleon's invasion of Russia. For months after reading this account, he drew analogies between business and Napoleon's campaign. He also enjoyed science, especially the New York Times science section.
My father was born in 1924, and grew up on Long Island. His mother died when he was 12. He went to prep school at Admiral Farragut Academy, and he got an appointment to the Naval Academy. However, he was later turned down by the Naval Academy because he didn't have 20/20 vision.
He enjoyed summer-camp on Lake Winnipesaukee, in New Hampshire. He also enjoyed his four years in the Navy, 1941 to 1945. He was in the Naval Air Corps, and learned how to fly a plane; he was never overseas, never in combat — the Navy had a surplus of pilots. At the end of the war, he went to Amherst, graduating in 1949. He married Nancy Jarvis, a Smith grad.
After college, he worked for his father as a construction equipment salesman. For the first 6 or 8 months, he sold nothing, and sometimes came home in tears. Later, he had some good years — in the 1950s, when highways were being built. After his father died, he and his brother owned the business jointly. In the early 1970s, the New York City economy went downhill, and the South Bronx became a notorious ghetto. It became harder and harder for my father to make a living. He worked more Saturdays, and took very little vacation. He drove about a thousand miles a week. He would leave the house about six in the morning, and come home about seven at night. In the 1980s, the economy rebounded, and profits rose, but his work was still tiring and stressful; the employees seemed to have better jobs than the employer. Even a trip to Nantucket was challenging, since he could only be there Saturday and Sunday, and had to drive at least four hours each way, plus ride the ferry three hours each way.
Not infrequently, customers didn't pay for equipment, and the equipment had to be re-possessed. To avoid re-possession, customers sometimes hid the equipment, and my father had to spend months hunting for the equipment. It was a difficult way to make a living, but he kept at it for 45 years, supported his family, paid his taxes, put four children through college, etc.
He was as assiduous at gardening as he was at equipment-sales. He had a garden in Westport, and a garden in Nantucket. He spent hours in the garden, and frequently distributed tomatoes and beans to people in his office. He also spent hours working on his streams, and he set up a floodlight on the pond, so we could play hockey at night. For the baseball field, he built a backstop out of tree trunks and chicken wire. He planted lots of trees, cut lots of firewood, and heated the house with a woodstove. One spring, we built a Sugar Shack, and made our own maple syrup.
He had a special interest in birds. He set up bird-feeders and bird-houses, and tried to create habitat for birds. When we were at Lake George, he would hike for miles to catch a glimpse of an eagle.
He enjoyed digging clams, and when he was in Nantucket, we'd go out at low tide with our clam rakes. Not for him the excitement of fishing, not for him the elegance of sailing; he was a digger of clams. When we got home, we'd count our catch, open the clams, and have a leisurely dinner. He enjoyed Nantucket — swimming in the surf, riding bikes, being with friends, playing volleyball with neighbors, joking with teenage girls.
When he was about 80, I went downtown one evening with him and my daughter (Louisa). We sat on a bench on Nantucket's Main Street, ate ice cream, and listened to a street musician. He enjoyed the evening; he said it was like Mardi Gras. He put some money in the musician's case.
In the old days in Westport, he often played basketball with me. For many years, he beat me in one-on-one, and then one day, I beat him. If we played baseball, I pitched, and he was the catcher and umpire. If I was anywhere near the strike zone, he'd call it a strike. If only I could turn back the clock, and hand him his catcher's mitt one more time.
Every day, in the evening, I heard the sound of his car tires crunching on the gravel driveway, as his Chevy slowly climbed the hill to our house. "Daddy's home!" He'd kiss my mother and change his clothes, and I'd ask him to play catch with me.
Perhaps what he enjoyed most was holidays and family gatherings, when his four children were at home, and his life had meaning and value, and his labors were not in vain, and we were happy together, and there was love between us, and he was the father of the family.
When I sat by his bed at the Soldiers Home, I thought of our years together. I remembered how I had entered his bedroom, many years ago, and said I had had a bad dream, whether I did or not, and how he had held me and patted me and comforted me.
My father is dead, but he lives in the memory of those who knew him.
2. Canis Cani Lupus
About a month ago, I had a dream or vision of an injury in the street, of picking someone up from the street, or bending over someone. "Was my daughter going to be injured in the street? How is that possible? Can I take any precautions against it?" Then, two days ago, I was walking my beagle (Tucker), and two dogs came out of their yard, crossed the street, and started sniffing him. Suddenly, one of them sank his teeth into Tucker's neck, and raised him from the ground; after Tucker wriggled free, his attacker seemed interested in another attack. With the help of the leash/harness, I was able to pick up the wounded, screaming Tucker, and begin walking away, our two foes nipping at our heels. Tucker had a deep wound on the top of his neck, and smaller wounds elsewhere on his neck.
Man is a wolf to man, and dog is a wolf to dog.
When Tucker was young, we failed to socialize him, and now he doesn't relate well to other dogs. Socializing is a source of pleasure and exercise; it's especially important if you have to put your dog in a kennel, since most kennels have areas for dogs to play together. And finally, a poorly socialized dog probably runs a greater risk of being bitten; he sends the wrong signals to other dogs.
In an earlier issue, I said we usually have a hunch when death is approaching. Perhaps we also have a hunch when an accident or injury is approaching.
3. NetBooks and AirCards
In a recent issue, I discussed NetBooks (mini laptops), and said that they often run Linux. I'm now finding, however, that Windows XP is the operating-system of choice on NetBooks. Since NetBooks often have only 1 GB of memory, resource-hungry Windows Vista is rarely used on NetBooks. It is said, however, that Microsoft's next operating system (Windows 7) will have a special version for NetBooks. While NetBook RAM is often tight, hard-drive space is surprisingly large — often more than 150 GB. The most popular chip for NetBooks is Intel's Atom, which is designed to conserve electricity.
NetBooks often lack a disc drive (they have neither a CD drive nor a DVD drive); this makes them lighter and cheaper. Users are expected to get software, music, etc. from the Internet instead of from discs; an external disc drive is also possible. The screen is small (9 or 10 inches), but it's quite wide; the 10-inch screen can easily display 1024 pixels from left to right (600 from top to bottom), the 9-inch screen claims 1024 by 600, but I'd "try before you buy." The keyboard on the 10-inch NetBook is fine — almost identical to the keyboard in a regular laptop.
Beware of NetBooks that have only a 3-cell battery — unless you plan to be constantly plugged in. On the other hand, a big battery may make a bump in the bottom of your NetBook. You may want to discuss battery-size with the manufacturer. One of the major NetBook manufacturers is Asus, a Taiwan company that has been making components like motherboards since 1989. The Asus NetBook is called "Eee PC."
One problem with a regular laptop is that the battery usually needs replacing after 18 months, and the battery costs about $150. Apple is now selling a laptop with a more durable battery, but that probably raises the initial price of the laptop, until the technology becomes widespread. If you discuss battery-size with a NetBook manufacturer, ask about battery-life, too. Since NetBooks generally have smaller batteries, perhaps the replacement cost is less.
A NetBook with the specs you want will cost about $330. AT&T is offering NetBooks for $50 if you sign up for two years of Internet access.
The latest trend in Internet access is the wireless modem, or air card. Unlike traditional WiFi, this allows high-speed Internet access anywhere you have cell-phone service. The price and speed are comparable to DSL and cable; if you go over your data quota, however, surcharges can be steep.
4. Bryson's Short History
A. Darwin
I just finished Bryson's chapter on Darwin. I knew that Wallace (Alfred Russel Wallace) had anticipated certain aspects of Darwin's theory, but I didn't realize how closely Wallace matched Darwin. "I never saw a more striking coincidence," Darwin said. "If Wallace had my manuscript sketch written out in 1842, he could not have made a better short abstract."1 Another person who anticipated Darwin was Patrick Matthew, whom Bryson describes as a "Scottish gardener." Robert Chambers, a "Scottish publisher," wrote a book "suggesting that humans might have evolved from lesser primates." Clearly, Darwin's idea was "in the air"; it was what I've elsewhere called an idea of the time.
B. Smart Matter
What's remarkable about the universe is not only the complexity and intelligence of living things, but also the glimmers of complexity and intelligence that we find in non-living things. As Bryson says,
Crystals can do a number of lifelike things — replicate, respond to environmental stimuli, take on a patterned complexity. They've never achieved life itself, of course, but they demonstrate repeatedly that complexity is a natural, spontaneous, entirely commonplace event. There may or may not be a great deal of life in the universe at large, but there is no shortage of ordered self-assembly, in everything from the transfixing symmetry of snowflakes to the comely rings of Saturn.2
Non-living things produced (developed into) living things, so perhaps it isn't surprising that non-living things have some of the complexity/intelligence that we associate with living things.
C. Cells
In a recent issue, we said that memory problems often begin around age 40. Bryson says,
Most living cells seldom last more than a month or so, but there are some notable exceptions.... Brain cells last as long as you do. You are issued a hundred billion or so at birth, and that is all you are ever going to get. It has been estimated that you lose five hundred of them an hour, so if you have any serious thinking to do there really isn't a moment to waste.3
Acquiring knowledge after age 40 is like putting water into a leaky bucket.
The continual dying of brain cells explains memory loss, senility, etc., but it leaves one wondering why some people don't become senile, just as a meteor can explain the extinction of dinosaurs, but leaves one wondering why many species didn't go extinct.
Discussing the interior of cells, Bryson says that mitochondria convert food and oxygen into a molecule called ATP, which provides energy for other cell processes. "Mitochondria are thought to have originated as captive bacteria [and] now live essentially as lodgers in our cells, preserving their own genetic instructions, dividing to their own timetable, speaking their own language."4 One thinks of Nietzsche's remark that class differences are based on racial differences, and can be traced back to ancient conquests. The Normans, for example, invaded England, conquered the Anglo-Saxons, and formed a ruling class. The Anglo-Saxons, once at the mercy of the Normans, now play an integral role in English society, as captive mitochondria play an integral role in the life of a cell.
Mitochondria has its own DNA, and this DNA is useful for tracing genetic relationships; it is sometimes described as a "molecular clock." In an earlier issue, I discussed the theory that all modern humans are descended from a small population in Africa; such theories are often based on mitochondrial DNA.
In an earlier issue, I discussed electricity in the human body, and said that it might play a role in occult phenomena. Discussing the interior of a human cell, Bryson says,
There is activity everywhere and a ceaseless thrum of electrical energy. You may not feel terribly electrical, but you are. The food we eat and the oxygen we breathe are combined in the cells into electricity.5
D. The Great American Interchange
About 3 million years ago, the isthmus of Panama rose up to form a bridge between North and South America, allowing animals to move between the two continents; this is called the Great American Interchange. A similar interchange sometimes occurs in the cultural sphere, as when Eastern and Western civilizations began to contact each other and influence each other. I've argued that the most important development in Western philosophy in recent times is contact with Eastern ideas, especially the contact with Zen that began about 1900. Perhaps a historian of Eastern philosophy could say that the most important development in Eastern philosophy in recent times is contact with Western ideas.
© L. James Hammond 2009
feedback
visit Phlit home page
make a donation via PayPal
---
Footnotes
1.
Bryson, ch. 25 back

2.
Ch. 19, p. 290 back

3.
Ch. 24, p. 373 back

4.
Ch. 24, p. 378 back

5.
Ch. 24, p. 376 back