November 26, 2009
1. Yafei
Yafei Hu, my wife of 18 years, died November 5. In several previous issues, I discussed her battle with cancer under the heading "Not 51." In the summer of 2008, she was diagnosed with metastatic colon cancer. She hadn't had a colonoscopy at age 50. I argued that one should have a colonoscopy at 50, not 51.
Though Yafei had little hope of victory in her struggle with colon cancer, it was at least a long struggle, and she could do some teaching, some travelling, etc. In the summer of 2009, however, she was diagnosed with metastatic pancreatic cancer, and the prognosis was "no hope, little time." But even in these final months, it wasn't all pain and suffering: her siblings came over from China for a few weeks, her mother came for a few months, Yafei had some good times.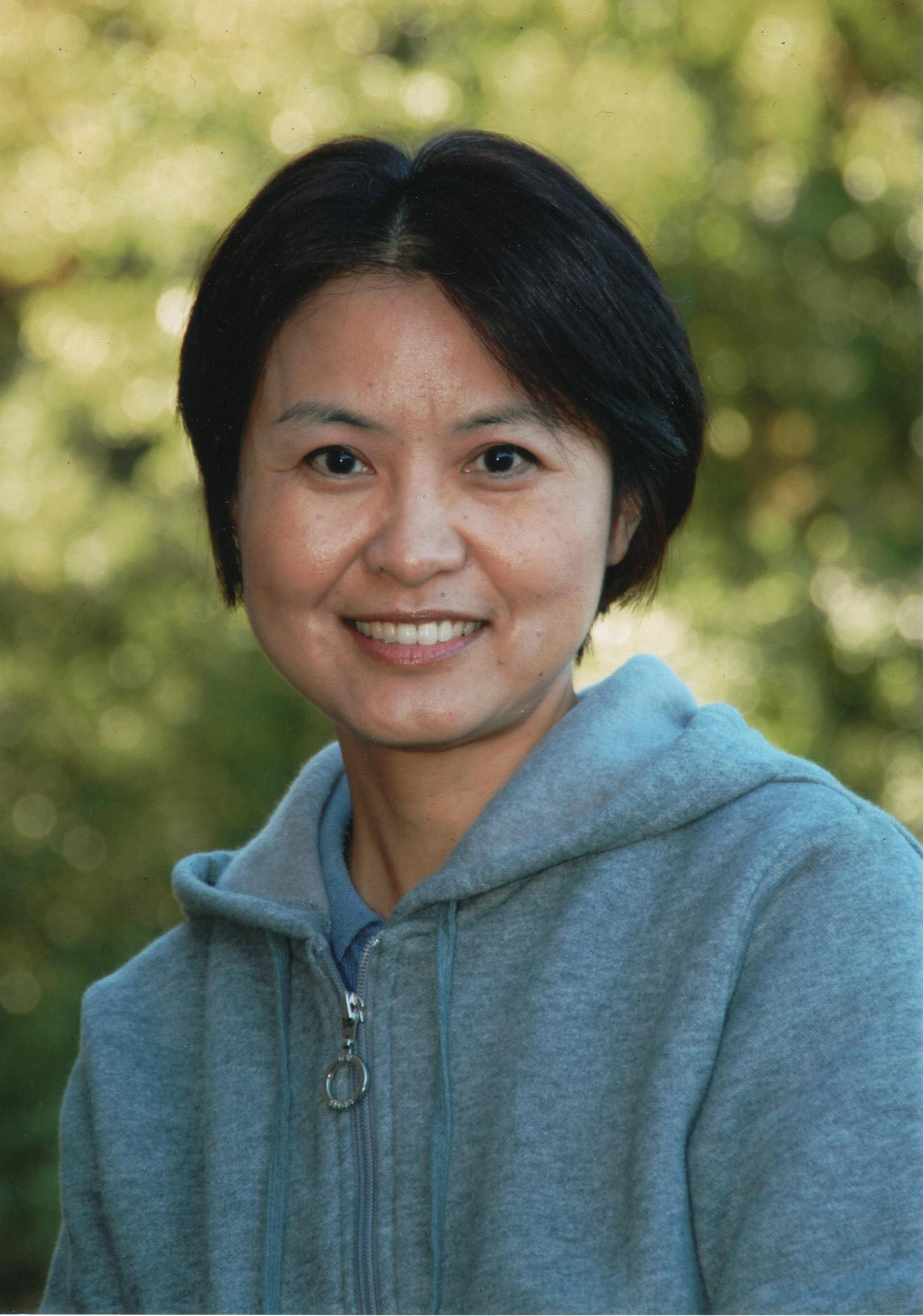 During her last days, I usually went to bed at 9 or 10. But on the night she died, I stayed up late, afraid that she would continue having painful cramps. I thought I could help her with the cramps, by pressing under her nose (an acupuncture technique). Shortly before midnight, I noticed she was having a cramp, I started pressing under her nose, and the cramp gradually subsided. Then she looked at me with her old look — big eyes, focused eyes, healthy expression, no pain, no fear. I was surprised because I hadn't seen that look for a long time; in recent days, she hadn't looked at anyone, she hadn't been able to focus her eyes. After looking at me for a second with her old look, she stopped breathing, she died.
In those final days, I often thought of our early days together in Northampton. She was 32 when we met. I wish everyone reading this could, for a moment, see Yafei as I saw her — the cheerful spirit, the bouncing step, the warm smile — as she played tennis, or threw a frisbee, or cycled around Northampton.
Perhaps her most salient traits were her bright smile, and her charming body language. I once saw a young boy, perhaps eight years old, watch Yafei walking on a tennis court; he couldn't take his eyes off her, he was captivated by her body language, and said, "I like her," though she was a complete stranger to him. One of Yafei's Chinese friends, Ma Bo, described her as kai, meaning "open." You could see Yafei's whole soul in whatever she did; she was kai, open, transparent.
As a youngster, Yafei never had any pets, except silk-worms, but when she was about 50, she finally had a pet in the house, a beagle named Tucker. She was very fond of Tucker, perhaps because he too was kai, open; she loved his moral simplicity. She said, "I never thought I could be so close to an animal." One day, she was moved to tears by the thought that she'd never be able to talk to Tucker.
She wanted company in death, she didn't want to be alone in death. Shortly before she died, she said she'd like Tucker to accompany her on the approaching journey. When my father died in the spring of 2009, Yafei said that if she died then, too, they could be together (she was very fond of my father). She was glad that I would accompany her by having the same gravestone, the same burial-place.
With Tucker, on the Nantucket ferry.
Though Yafei was fond of music, and sung well, her favorite art was literature. She wrote both fiction and non-fiction, was involved with several Chinese-language e-zines, wrote a column on American education for a Chinese newspaper, and translated three books from English to Chinese. (When she died, and her body was dressed for the last time, her mother put a paper and pen in one hand, some dumplings in her other hand.) Yafei was also very fond of film, and even thought about working in the film industry. She loved travelling, and made two trips to Europe (one to Italy, one to France). She was also an avid photographer. And when it came to picking colors for a house-painting project, no one was better than Yafei. In short, she was "all-around artistic."
She was fond of tragedies — La Traviata, for example. When we talked about her funeral, Yafei said, "maybe you can play Chopin music, and have the picture of me at Chopin's grave." She loved the ballet version of La Traviata, accompanied by Chopin's music, and watched it over and over. La Traviata — the story of a woman dying young from a lingering illness, with music by a man who died young.
Yafei also loved humor, and we often laughed together. I can still hear her laughing over Abe Lincoln's remark, "God must love the common man because He made so many of them." And I can still hear her laughing over Mark Twain's remark, "Paris was wonderful. In Paris even the little children speak French."
When Yafei was dying, one of my greatest regrets was that we hadn't travelled more — we hadn't seen the fields of Provence, the mountains of Switzerland, the parks of the American West. I thought we should live frugally, and save for tomorrow, but death intervened, and we ran out of time. Yafei loved movement, change, new things; travelling suited her perfectly. She loved to share her travel photos and narratives with her Internet friends.
At age 18.
A narrative about Yafei would be incomplete without mentioning the Internet, which played a big role in her life. She made friends through the Internet, published her writings on the Internet, commented on other people's writings, etc., etc. Her personality shone through her keyboard, and she had many friends and fans in cyberspace. After she died, her cyber-friends built a website to celebrate her life and mourn her death.
Everyone who knew Yafei mourned her death — such a unique style, so much charm, so much courage. Joyce must have been thinking of Yafei when he spoke of "the finest purest character."
One of her Providence friends, Wenjun Kuai, wrote, "I just heard that Yafei has left us for a better place, but I have to tell you that I still can see her bright eyes and big smiles in front of me." Harry Rothschild, another Providence friend, said that Yafei's death was "incredibly sad, for she was such an optimistic, vital and essentially good being." May Zhao, one of Yafei's Internet friends, wrote, "She was such a strong and lively person, and a very good friend to all of us." Kersha Liu, a friend from her graduate school days, said, "I am so sorry that I cannot see her, my dear sister, any more! It is not fair! I lost my sister at this young age! To me she has always been so bright, so kind, so warm, that's how she will remain in my heart." Another grad school friend, Guowen, wrote, "I just opened my Inbox and was shocked by the terrible news, I couldn't believe my eyes, I felt it difficult to find my breath.... Is it true that we have lost our Yafei, the most energetic, optimistic life lover?"
Tom Campbell wrote,
My wife knew Yafei over the net and held her in very high regard. You can't know that it's already an extraordinary thing, because my wife holds very, very few people indeed in high regard. We met Yafei in person just once.... Yafei was just plain appealing.... She had a fullness of personality that very few of us, Chinese or not, can hope to achieve. She was a questing soul and one who knew how to enjoy life more than most. (You hear that a lot at funerals. It's usually not true. I could tell it was true of Yafei within moments of meeting her.) I had looked forward to seeing her again.
One of Yafei's students, Brian Fitzgerald, wrote
Ms. Hu, I'm going to miss you forever. I had you two years and they were absolutely wonderful. I looked forward to your class, and never did that to any other class. You were the best teacher I ever had, you taught great and had a great sense of humor and helped me learn. You put up with me when I was sorta not the best student and... only gave me detention once, and I think I deserved it quite a few more times than that. You are easily the nicest person I have ever met and I count myself, and all who had you for even a short time, impossibly lucky to have someone like you in our lives. You were a perfect role model, and I will try to honor you and be like you in any way I can. You are loved and missed more than you can imagine. Rest in peace.
Another student, Elena Huang, when asked to write about a hero, chose to write about Yafei, and said that Yafei "exemplifies the quintessence of courage, strength and humor. As a teacher, she was everything that any student could ever wish for."1
Yafei was born in 1955 in Hefei, the capital of Anhui Province. When she was 8, her family moved to Beijing. Her secondary education was disrupted by the Cultural Revolution; classrooms were closed, and students were sent into the streets to build air-raid shelters, etc. By the time she was 14, Yafei was living alone in Beijing, her parents and her brother having been sent to the countryside to be "re-educated," and her younger sister sent to live with relatives in Shanghai.

Reading an appeal for volunteer labor,
during the Cultural Revolution.
Instead of attending high school, she worked in a factory for a year, then became a member of a singing and dancing troupe. The troupe performed dramas, musicals, and ballets — all with a Socialist theme. During her five years with this troupe, Yafei began studying English, and worked as a radio announcer and movie projectionist. (When the audience demanded the next roll of film, and shouted obscenities, she pretended not to hear.)
She gradually became disillusioned with Socialist art. She was criticized and ostracized for her interest in English, and for her disinterest in socialism. In 1976, she was sent away from Beijing to Tangshan, which had recently been devastated by an earthquake. Later that year, however, Mao died, the Cultural Revolution ended, and Yafei's exile was lifted.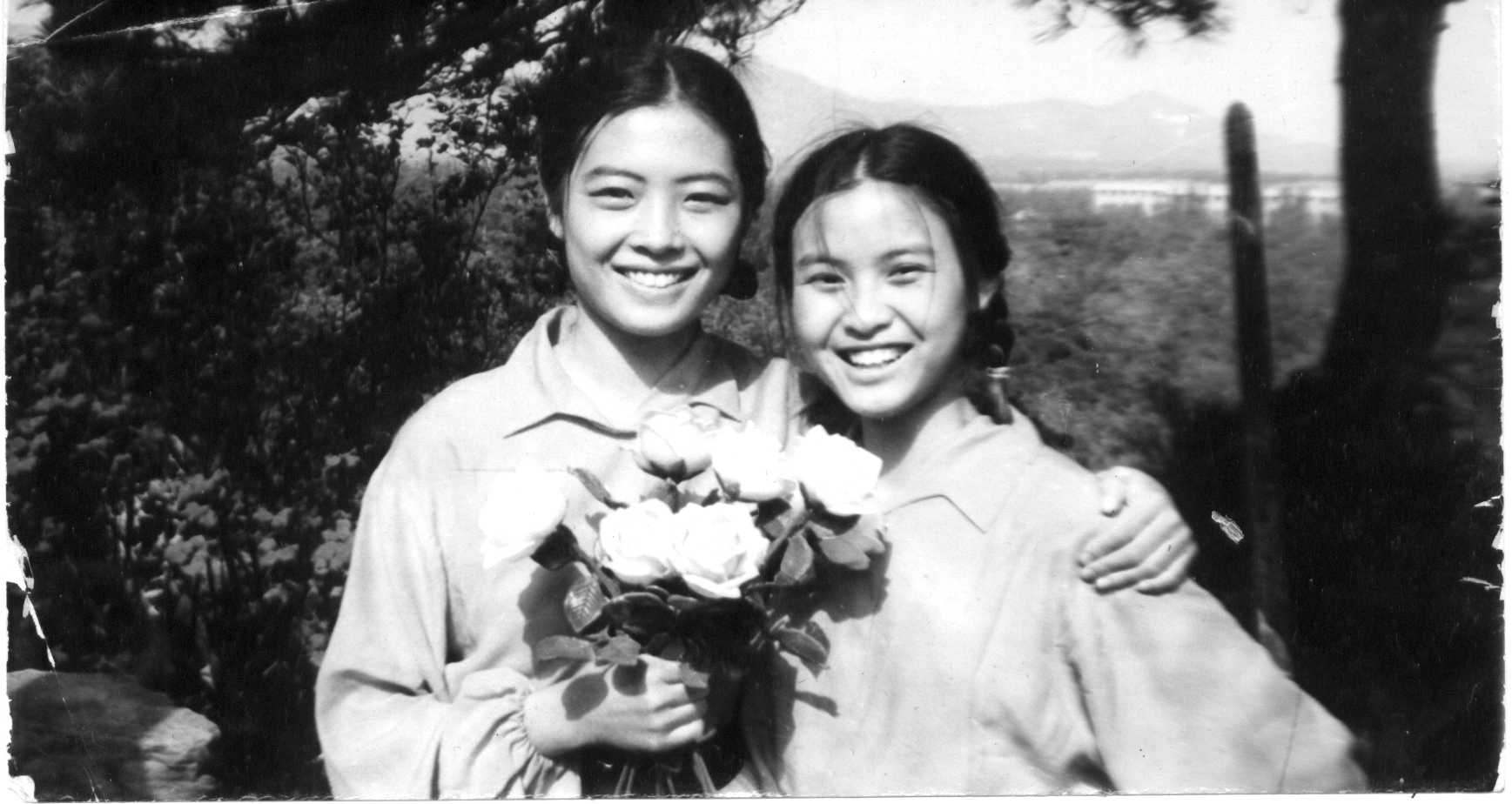 With one of her fellow dancers. (Yafei is on the right.)
In 1978, when Yafei was 23, she finally started college in Beijing. She enjoyed the academic world, and when she graduated in 1982, she started a Master's program in American Literature at the Chinese Academy of Social Sciences. After earning a Master's Degree, she stayed at the Academy in the capacity of professional scholar.
Soon, however, The Party called for volunteers to go into the hinterland, and educate the peasants. Yafei answered the call, and became a high-school English teacher in a remote part of Henan Province. This was her first teaching position. She was a friend to her students, as well as a teacher; she visited them in their homes, and spent the night with them. (One of them became so devoted to her that he showed up at her apartment in Beijing!) As she did later in her career, she used her musical abilities to bring a foreign language to life. Students who weren't in her class would come to the window of her classroom to watch her play the guitar and sing "Where Have All The Flowers Gone" or "Blowin' in the Wind." At the end of the year, she received the Teacher of the Year award. A star was born.
After a year of teaching in the countryside, Yafei returned to Beijing. When a Smith College professor visited her Institute, Yafei was assigned to be his guide on a tour of China. He suggested that she apply to Smith; she applied and was accepted. In the summer of 1987, Yafei left China for the first time, and headed to the U.S. to become a graduate student at Smith.
After earning a degree in American Studies, she earned a Master's Degree in Education. While at Smith, she met me, and we were married in 1991.
In 1990, Yafei began teaching at the Nashoba Brooks School in Concord, Massachusetts. She remained there from 1990 to 1995, rising to the position of Social Studies Chair.
Yafei had the coordination of a dancer, and she had little trouble learning to play tennis, frisbee, and other sports. When we handed her a fishing rod for the first time, she was immediately able to cast her line with a fluid grace.
After teaching in Concord for five years, Yafei became intrigued by the idea of teaching her native tongue, and began teaching Chinese at Wheeler School in Providence, where she remained for five years. Then she taught at a Brookline public school, and a charter school in Hyde Park (The Academy of the Pacific Rim). The charter school exposed her to an inner-city environment that was unlike anything she had encountered before. Again she drew on her musical ability to enliven her classes. One day, a student announced, "We like your personality."
In 1998, Yafei and I travelled to China, and adopted a one-year-old girl, Louisa. Yafei fell madly in love with Louisa, and eagerly accepted her new role as mother.

Yafei with Louisa, a couple days after adopting her.
After teaching Chinese for one year in Brookline and one year in Hyde Park, Yafei moved closer to home, and began teaching in Sharon. She spent six years teaching Chinese in the Sharon public schools (from 2003 to 2009), and was highly-regarded by supervisors and students alike. When she became sick, her Sharon students created a Facebook page in her honor; many of them commented about how she was a friend as well as a teacher — just as she had befriended her students in Henan Province. When we had a memorial service for Yafei at Swan Point Cemetery in Providence, many of her Sharon students came to the service, and spoke movingly about her.
With her Brookline students.
She helped to establish an exchange program between Sharon High School and a high school in Xian, China. On August 26, 2007, a front-page Boston Globe article about exchanges with China featured a photo of Yafei. She was a guide for the first group of Sharon students who went to China; they spent about two months in Xian, living with host families, attending a Chinese high school, and improving their Chinese-language skills. The exchange program was so popular that one Sharon student wrote a "letter of defection," saying she was going to stay in China, and the Chinese students who came to Sharon were equally enthusiastic.
Yafei brought to the classroom the personal magnetism of a professional entertainer, and the intellectual seriousness of a professional scholar. She was a born teacher, and was well-respected and well-liked at every school she taught at. In addition to teaching students, she conducted numerous workshops for teachers.
She sometimes became angry with people who didn't have her openness, her candor. When I was at the Great Wall with her in 1994, we were tricked into paying a double admission fee. She protested, a crowd gathered around her, and the police took her away to prevent a riot, and gave us a refund. Thousands of people were cheated every day, Yafei dared to protest. She had the courage to challenge the authorities.
Yafei's courage didn't desert her when she was faced with a terminal illness. When the doctors told her that she had metastatic pancreatic cancer, she calmly replied, "I'm disappointed it can't be operated on." She kept her composure in the face of catastrophe. Only once or twice did she cry — when she thought about missing Louisa's college graduation, missing Louisa's wedding, etc.
Yafei had an excellent command of English, but occasionally made mistakes that I couldn't help laughing at. For example, she mixed up the phrase "starting from scratch" and the phrase "back to square one". When she was diagnosed with pancreatic cancer, my mother said, "you were making some headway with the colon cancer, and now you have to start over again." Yafei laughed, and said, "I'm back to scratch one." Not many people could laugh when they were given 3 months to live.
Yafei didn't pity herself, or ask for pity from others, even though no one deserved pity more than she did. Her last trip was a trip to the Caribbean that we took 7 months before she died. Yafei didn't ask for pity from the hotel manager, whom we saw every day; in fact, she never told him that she was sick. And she didn't tell her family in China that she was sick until 4 months before she died. She preferred to spare their feelings rather than receive their pity.
Though she faced death with courage, she still wanted to live. A week or two before she died, some nurses were at her bedside, and she asked them if her cancer was in retreat, if her numbers were improving.
A week or two before she died, Yafei called Louisa to her bedside, and gave her a farewell talk. She spoke with calm courage and ardent love, recalling how she had met Louisa, watched her grow up, etc. It was a great talk, vintage Yafei.
In her last months, we spoke often about life after death, saw films about it, and read books about it. Yafei half believed, I more-than-half believed. We were receptive to the idea of life after death long before Yafei became sick; this wasn't a "foxhole conversion." The idea of life after death is a comfort to the dying, and to those they leave behind.
A month after Yafei died, my brother-in-law visited us. He got up in the middle of the night, looked out the window, and saw first Yafei, then my deceased father, then his deceased son, then Yafei again. It was as if they were on a fuzzy, black-and-white TV. All of them were smiling. He asked himself if he were dreaming, but he could feel that he was completely awake. He waved to Yafei, and she waved back.
Yafei's gravestone (our gravestone) is in Swan Point Cemetery in Providence. Yafei has another gravestone in China, with her parents. In death as in life, she was divided between two countries.
Donations to the Yafei Hu Scholarship Fund will be gratefully accepted (Sharon Public Schools, Attn: Judy Townsend, 75 Mountain Street, Sharon MA 02067, payable to "Yafei Hu Scholarship Fund").
Winners of the Yafei Hu Award
2010
Alicia Jacobson
2011
Bassel Ghaddar
2012
Zachary Jay
2013
Alan Stamper
2014
Elizabeth Leclaire
2015
Benjamin Brack
2016
Kelly Watka
2017
Benjamin Hack
2018
Michael Petze
2019
Dana Jaffe
2020
Juliana Dudziak
2021
Daniel Wachman
2022
Evan Jaffe
2023
Sierra Robison
a volume of Yafei's writings, on Amazon
a volume of Yafei's writings, free download
cover of Yafei's book
four videos
twelve audio files (poetry readings) in Chinese
Yafei's blog/website
Facebook page created by Yafei's Sharon students
© L. James Hammond 2009
feedback
visit Phlit home page
make a donation via PayPal
---
Footnotes
1.
Becky Zuberi, a Providence friend, said, "We had no idea how sick she was. Even in our phone conversations, she greeted me with enthusiasm and happiness. She was always so positive and I very much enjoyed hanging out and talking with her. She never once mentioned that she had cancer and never ever complained about not feeling well. She was always smiling, happy and present in everything she did. She was a true friend, always willing to help, listen, and advise. She treated us like we were 'family' even offering to take [my son] to China to help him with 'immersion'.... She was a very good friend, a wonderful human being, and I'm really going to miss her." back